On the occasion of the 40th Anniversary of the sister city partnership between Los Angeles and Berlin, the Los Angeles-Berlin Sister City Committee presented "A Journey from Berlin to Los Angeles" with cabaret and musical star Ute Lemper. Almost 800 guests celebrated this special event together with the Governing Mayor of Berlin, Klaus Wowereit, the Los Angeles Mayor, Antonio Villaraigosa, and German Consul General Dr. Christian Stocks and his wife Christine as well as Councilman Tom LaBonge who is also President of Sister Cities of Los Angeles, Inc. >>read more
SISTER CITIES CULTURAL DAY
May 20, 2007, The Grove, Farmer's Market
Many attended the colorful Sister Cities Cultural Day at the Grove
and enjoyed the international atmosphere and colorful performances
presented by the 21 sister cities of Los Angeles. Berlin was represented
by the wonderful Christina Linhardt, vocal, and Nick Ariondo, accordion,
who captured everyone with their "spicy" Berlin songs.
ANNUAL MEMBERSHIP MEETING AND ELECTION
June 24, 2007
Members and friends gathered at Karin and Guenther Memmert's home
on a warm Sunday afternoon to meet, connect and discuss past and
upcoming events and programs, especially the ones related to the
40th Anniversary of the sister city partnership, the Ute Lemper
concert in March, the Delegation which will visit Berlin in
September, the Anniversary Finale in December as well as current
anniversary activities organized by various German institutions
in Los Angeles. A review rendered by the chair, which also in-
cluded the ongoing student exchange between our two sister cities,
was followed by the election of officers and a question-and-answer
session and social hour.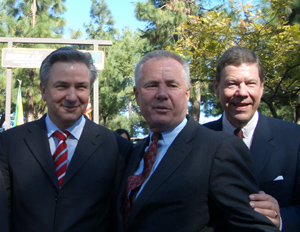 40th ANNIVERSARY CELEBRATIONS of the Sister City
Partnership between Los Angeles and Berlin
With the visit of the Governing Mayor of Berlin, Klaus Wowereit, and his delegation in March 2007, the 40th Anniversary celebrations began.
Official Treeplanting at the Berlin Forest
DELEGATION TO BERLIN September 2007

In March 2007, Klaus Wowereit, Governing Mayor of Berlin, visited and his delegation visited Los Angeles on the occasion of the 40th Anniversary of the sister city partnership between our two great cities. In September, a Los Angeles delegation visited Berlin to celebrate the birthday of our sister city.
FINALE of the 40th ANNIVERSARY FESTIVITIES
"A HOLIDAY SPECTACULAR"

On December 15, the 40th Anniversary of the sister city partnership celebrations between Los Angeles and Berlin ended with a "Holiday Spectacular" presented by the California Philharmonic Orchestra under the
direction of Maestro Victor Vener.