Instead of a Christmas party the Los Angeles – Berlin Sister City Committee invited members and friends to celebrate the New Year on January 8th , 2005 at the home of chairperson Rosemarie Reisch.
>>read more
On March 9, Berlin photographer JUERGEN GRAETZ displayed his brilliant exhibit of "Documents of our Times" at the Opening Reception at the Goethe Institut. The Los Angeles-Berlin Sister City Committee co-sponsored this project with the Goethe Institut and the support of Gudrun Wendler. The photo exhibit will be shown for several weeks.
>>read more
On May 22, 2005 the First Festival of Los Angeles Sister Cities took place at the Page Museum Park in Los Angeles and it seemed as though the whole world had gotten together on that day.
>>read more
The Annual Membership Luncheon took place on May 29, 2005 at the residence of Christiane and Niels Christiansen. The beautiful setting and the gourmet lunch prepared by Christiane contributed to create a very congenial atmosphere.
>>read more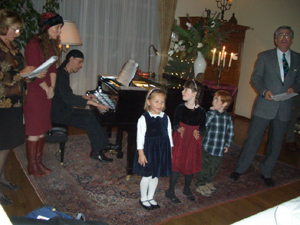 On December 4, 2005, our Annual Christmas Party took place. Many guests, including the German Consul General Dr. Christian Stocks and his wife as well as leaders of German institutions and special supporters of our organization, participated in the celebration and enjoyed the "Holiday Show" with singers of the Los Angeles Opera, the recital of poems by young children, the exquisite performance by pianist Victor Alexeef, the caroling and the festive holiday buffet. It was an evening to remember.